An Injustice to the remaining 16 Australian citizens
Ericsson should not have been allowed to purchase Lane while Lane was investigating Ericsson
MY YOUTUBE VIDEO
It is clear from the above YouTube video that I dammed the sale of Lane Telecommunications Pty Ltd to Ericsson, who Lane was investigating on behalf of the government and the COT Cases. To have sold themselves to Ericsson the way they did before the arbitrations were complete is one situation that Lane should have even considered if they were a genuinely ethical company. But to have sold themselves without documenting in their reports to the arbitrator concerning the significant faults with the Ericsson equipment, which other countries had dammed shows that the COT Cases claims of fowl play are a valid claim against the Commonwealth for having allowed this to happen during a government-endorsed arbitration.
The following google link "Angry shareholders sanction Ericsson chiefs over Iraq ... https://www.icij.org › investigations › ericsson-list › angry.." shows that the COT Cases were right to demand answers to why Ericsson was allowed to purchase the main arbitration technical witness investigating their claims against Ericsson's telephone equipment which was the subject matter under investigation during the COT arbitrations. Why hasn't the Australian government called for answers as to why the COT Cases were treated so badly when Ericsson was able to nobble Lane?
Therefore, it is important to introduce here the bribery and corruption issues the US Department of Justice raised against Ericsson of Sweden on 19 December 2019, as recorded in the Australian media
One of Telstra's key partners in the building out of their 5G network in Australia is set to fork out over $1.4 billion after the US Department of Justice accused them of bribery and corruption on a massive scale and over a long period of time.

Sweden's telecoms giant Ericsson has agreed to pay more than $1.4 billion following an extensive investigation which saw the Telstra-linked Company 'admitting to a years-long campaign of corruption in five countries to solidify its grip on telecommunications business. (https://www.channelnews.com.au/key-telstra-5g-partner-admits-to-bribery-corruption/)
The US Department of Justice has accused Ericsson of bribery and corruption. Ericsson is the same company whose telecommunication equipment was under investigation by the COT arbitrator. And, as for bribery in the case against Telstra, Senate Hansard dated 27 February 1998 shows Telstra paid kickbacks and bribes to a number of Australian politicians and government bureaucrats.
Ericsson who the US Department of Justice has accused of bribery and corruption is the same company whose telecommunication equipment was under investigation by the COT arbitrator.
It is important we use the Ericsson link above as part of my ongoing attempt to have the Australian government impartially investigate my claims against Telstra and whether Ericsson should have been allowed to purchase Lane Telecommunications Pty Ltd during the period Lane was the official appointed arbitration technical consultant assigned to the COT arbitrator who himself had been assigned to value the COT cases claims against Telstra including the Ericsson manufactured telephone equipment installed in the telephone exchanges which serviced the COT Cases businesses.
I again ask the Australian governemnt, why was Ericsson a Swedish multination telecom giant allowed to puchase a small telecommunications consultancy company like Lane Telecommunications Pty Ltd during an Australian government endosred arbitration process where Lane was investigation the COT Cases claims against Ericsson? The company whose equipment was being investigated by an Australian arbitrator?
A click with your mouse/cursor over the Ericsson List below will allow you to assess for yourself whether Ericsson should have been allowed to infiltrate the Australian seat of arbitration by purchasing the principal investigator investigating Ericsson as part of the COT arbitration process.

The Ericsson List
Is there a link between the information in The Ericsson List, prepared by the International Consortium of Investigative Journalists (ICIJ) regarding Ericsson, the investigation into their questionable conduct on many levels concerning their international business ethics and their inolvement during the the COT arbitration's?
Why did the Australian government allow Ericsson to purchase the principal technical consultant to the arbitrator Lane Telecommunications Pty Ltd when Lane had been assigned to investigate the COT Cases arbitration claims that the Ericsson AXE telephone exchanges were destroying their businesses? Why wasn't an investigation conducted into the COT Cases' claims that Lane did not test or make a written comment in their findings concerning the ongoing telephone faults the COT Cases were still experiencing during their arbitrations while their businesses were still routed through the Ericsson AXE equipment other countries around the globe had removed from their telephone exchanges (see File 10-B Evidence File No/10-A to 10-f).?
It is clear from the following google link "Angry shareholders sanction Ericsson chiefs over Iraq ... https://www.icij.org › investigations › ericsson-list › angry.." that the COT Cases were right to demand answers to why Ericsson was allowed to purchase the main arbitration technical witness investigating their claims against Ericsson's telephone equipment which was the subject matter under investigation during the COT arbitrations. Why hasn't the Australian government called for answers as to why the COT Cases were treated so badly when Ericsson was able to nobble (stop) Lane from reporting the truth to the arbitrator concerning a global problem with the Ericsson AXE equipment now under investigation in the COT Cases arbitrations?
How do you tell a story that is so unbelievable that even the author doubts the authenticity of what they are writing until they check their records (as I have had to do) before continuing with the story being written? How do you expose collusion between an arbitrator, various appointed government watchdogs (umpire) and the defendants, and those whose AXE telephone equipment is under investigation?
How do you expose the fact that the defendants in an arbitration process (the once Government owned telecommunications carrier) used equipment connected to their network, screened faxed material leaving your office, and stored it, without your knowledge or consent, before redirecting it onto its intended destination?
The defendants (the Telstra Corporation) were surely using this screened material to benefit their arbitration defence to the detriment of the claimants.
Faxes hacked en-route to the arbitrator and the arbitration advisors

A criminal scheme devised by Telstra and their arbitration forensic accountants Delioitte to minimize their losses. Telstra had already threatened Coopers & Lybrand (now PWC) that if they did not change their findings into their reporting into Telstra's misleading and deceptive conduct towards the COT that any future dealings with Telstra would be irriparably dammaged. Coopers (now PWC) did buckle under Telstra's threats by removing/altering their original findings against Telstra.
Australian Federal Police transcripts concerning their second interview with me regarding Telstra's phone and faxing issues (refer to Australian Federal Police Investigation File No/1), which were done without gaining a magistrates court order. Screening legal documents en route to a judge or arbitrator was nothing new to Telstra, refer to Chapter 4 Government spying.
Bad luck for the claimant whose entire arbitration claim was disadvantaged by this criminal act. The financial losses of what the other COT Cases and I have lost due to this thuggery by Telstra have never been measured.
An example of this can be viewed by clicking on the following exhibit Front Page Part One File No/1, which shows on the top of the page that Telstra agrees with the arbitrator's secretary that on 23 May 1994, six of my faxes could not possibly have arrived at the arbitrator's fax machine because it was busy when my faxes were being sent.
The bottom half of that page is a replica copy of my Telstra billing records for the six non-received faxes, yet Telstra charged me for all six transactions. When this example and other examples were provided to the arbitration administrator with my request to have those arbitration claims documents evaluated to support my claims that my telephone faults were still affecting my business, those requests were denied.
How many other Australian arbitration processes have been subjected to this type of hacking? Is this electronic eavesdropping, this hacking into in-confidence documentation, still happening today during legitimate Australian arbitrations? In January 1999, the arbitration claimants provided the Australian Government with a report confirming that confidential, arbitration-related documents were secretly and illegally screened before they arrived or left Parliament House Canberra: will that report ever be released to the Australian public?
That report has now been released in full on this website and can be downloaded from Chapter 4 Government spying
A criminal scheme devised by Telstra to minimize their losses was uncovered by the Senate in June 1997 (Refer to Senate page 5169 SENATE official Hansard – Parliament of Australia - (see TIO Evidence File No 3-A) more than two years after most of the arbitrations were concluded
Sheer Evil

And this happened while Telstra was government owned
Exhibit AS 492-A file AS-CAV 488-A to 494-E is a letter dated 26 August 1998 from George Close to the new Telecommunications Industry Ombudsman. The fax header records: Fax from: — 61 74 453198 — 17:54, which was Mr Close's residential fax number. Our Main Evidence File (see Open Letter File No/12, and File No/13) is the technical findings of both Scandrett & Associates and Peter Hancock, showing that they both agree that if the wording Fax from: followed by the numbers of the various COT faxes does not also include the correct business identification of the respective COT business then that indicates that those faxes were intercepted by a secondary fax machine and then redirected on to the intended destination.
This intercepted letter from Mr Close was copied to the offices of twelve different Government Ministers in Parliament House Canberra, raising several important questions. Since we constantly hear politicians questioning how information has been leaked from the party room, could this be because even Government offices in Parliament House are also routed through Telstra's Fax Streaming centre? Even if those Government offices have officially organised the Fax Streaming arrangement, what could be happening to the documents that go through that system without the Government's knowledge? Could it be that privileged, in-confidence material 'leaks' out of Parliament House through Telstra similarly? Is it that Telstra's Fax Streaming process means that, around the country, private is not so private?
Just to let you know, although the George Close exhibits are of poor quality (having been copied several times), the poor quality does not take away the truth that these exhibits, when viewed together, still prove our claims.
Exhibit AS 492-B file AS-CAV 488-A to 494-E, which is a report faxed by Mr Close on 16 April 1998, has the correct identification across the top of the page see 61-74-453198 — GEORGE CLOSE & ASSOC — 17:34. In simple terms, those with access to Telstra's network were able to use 'keywords' so only specific faxes leaving Mr Close's residence were intercepted. I have used these two examples because they were sent at approximately the same time in the afternoon, although months apart.
How many other arbitration and legal processes is this interception of the legal documentation being hacked by the opposing side, screened, and copied before sending it to its intended destination? The advantage of knowing the other side's weaknesses and strengths is endless. And this all happened in Australia. I firmly believe up to the day George Close passed away; he never got over the fact that Telstra had used his residence and office to the detriment of his clients.
George Close later sent me an email on 5 August 2011 to assist me in exposing what the Telstra Corporation had been able to do (and get away with) during the COT arbitrations to gain an advantage over all of the COT Cases claims before the arbitrator. His eyes were full of sadness to think it was his residence and office, and the advice was given to the COT Cases from it that had caused the COT Cases so much damage (see Front Page Part One File No/26).

"I recall a discussion with Senator Ron Boswell during the late 90's.

"He had been shown fax's [sic] which had clear indication of change in the headers, indicating interruption in transmission by a third party or parties.

"He questioned whether it was possible that faxes to and from senators could be interrupted, read or copies.

"My response in the affirmative brought about an expression of extreme anger. Stating that if it could be proven that it occurred the offender(s) would be jailed.

"If required I am prepared to re-state this on an affidavit."
So far, no one in Australia has even been brought to account, let alone jailed, for the terrible invasion of the COT cases' private and business lives.
Infringe upon the civil liberties

Most Disturbing And Unacceptable
On 27 January 1999, after having also read my first attempt at writing my manuscript absentjustice.com, the same manuscript I provided Helen Handbury, Senator Kim Carr wrote:
"I continue to maintain a strong interest in your case along with those of your fellow 'Casualties of Telstra'. The appalling manner in which you have been treated by Telstra is in itself reason to pursue the issues, but also confirms my strongly held belief in the need for Telstra to remain firmly in public ownership and subject to public and parliamentary scrutiny and accountability.

"Your manuscript demonstrates quite clearly how Telstra has been prepared to infringe upon the civil liberties of Australian citizens in a manner that is most disturbing and unacceptable."

Senator Kim Carr criticised the handling of the COT arbitrations on 11 March 1999, as the following Hansard link shows. Addressing the government's lack of power, he said:
"What I do make a comment on is the question of civil liberties and the rights of citizens to approach this parliament and seek redress for their grievances when corporate power, particularly in a publicly owned corporation, has been abused. And there can be no question that that is what is at the heart of this issue."
And when addressing Telstra's conduct, he stated:
"But we also know, in the way in which telephone lines were tapped, in the way in which there have been various abuses of this parliament by Telstra—and misleading and deceptive conduct to this parliament itself, similar to the way they have treated citizens—that there has of course been quite a deliberate campaign within Telstra management to undermine attempts to resolve this question in a reasonable way. We have now seen $24 million of moneys being used to crush these people. It has gone on long enough, and simply we cannot allow it to continue. The attempt made last year, in terms of the annual report, when Telstra erroneously suggested that these matters—the CoT cases—had been settled demonstrates that this process of deceptive conduct has continued for far too long." (See parlinfo.aph.gov.au/parlInfo/search/displaychamberhansards1999-03-11)

Senator Schacht was possibly very vocal when he stated:
"I rise to speak to this statement tabled today from the working party of the Senate Environment Communications, Information Technology and the Arts Legislation Committee—a committee I served on in the last parliament—that dealt with the bulk of this issue of the CoT cases. In my time in this parliament, I have never seen a more sorry episode involving a public instrumentality and the way it treated citizens in Australia. I agree with all the strong points made by my colleagues

on both sides who have spoken before me on this debate. What was interesting about the Senate committee investigating this matter over the last couple of years was that it was absolutely tripartisan—whether you were Labor, Liberal or National Party, we all agreed that something was rotten inside Telstra in the way it handled the so-called CoT cases for so long.

The outcome here today is sad. There is no victory for citizens who have been harshly dealt with by Telstra."

They [Telstra] have defied the Senate working party.
On 23 March 1999, after most of the COT arbitrations had been finalized and business lives ruined due to the hundreds of thousands of dollars in legal fees to fight Telstra and a very crooked arbitrator, the Australian Financial. Review reported on the conclusion of the Senate estimates committee hearing into why Telstra withheld so many documents from the COT cases:
"A Senate working party delivered a damning report into the COT dispute. The report focused on the difficulties encountered by COT members as they sought to obtain documents from Telstra. The report found Telstra had deliberately withheld important network documents and/or provided them too late and forced members to proceed with arbitration without the necessary information," Senator Eggleston said. "They [Telstra] have defied the Senate working party. Their conduct is to act as a law unto themselves."
The following six senators all formally record how those six senators believed that Telstra had 'acted as a law unto themselves' throughout all of the COT arbitrations, is incredible. The LNP government knew that not only should the litmus-test cases receive their requested documents but so should the other 16 Australian citizens who had been in the same government-endorsed arbitration process.
Eggleston, Sen Alan – Bishop, Sen Mark – Boswell, Sen Ronald – Carr, Sen Kim – Schacht, Sen Chris, Alston and Sen Richard)
Other government ministers have shown their disgust at the way Telstra was able to act as a law unto themselves as can be seen from Senator Mark Bishop's statement shown below notes in the following link > aph.gov.au/parlInfo/search/displaychamberhansards1999-03-11

Significant issues do arise. I think it is appropriate to refer to the final paragraphs of the committee report. In the second to last paragraph, the report of the committee tabled by Senator Eggleston says:

Estimates of Telstra's costs in relation to the CoTs issue since the claims were made exceed $20 million ($14.285 million to 1997 and rising). Most of the expenditure has been spent, not on settlement but on administrative and legal costs. It became quite clear early in the process that the claimants had in fact been disadvantaged by malfunctions in their telephone system. It is difficult to understand why Telstra appeared to prefer to deny that there was a problem and then prolonged the difficulties in establishing the extent of that problem.
The final sentence reads:
In the Committee's view Telstra should now seek to reach a negotiated agreement with the interested parties.

If fault is to be allocated at this very early stage of the final lap, that fault lies at the door of Telstra. It really is appropriate for Telstra, a $100 billion corporation, to stop using its monopoly power, to stop retaining the services of dozens of highly paid solicitors and to come to the table and to seek to reach a negotiated agreement with these four or five persons. It is simply outrageous that Telstra, which is still a public corporation, can spend something in the order of $20 million - Senator Boswell - Some $24 million.
Senator Mark Bishop -
"I am informed by Senator Boswell it is 24 million - defending a claim when the claim before it is somewhere between $2 million or $4 million. This is simply an outrageous propostion and a waste of public money".
A fair resolution of all the COT cases claims has still not been reached as the information on absentjustice.com shows
He was stunned at how I had collated this evidence

16 Citizens were discriminated against in the most deplorable manner
Senator Len Harris, who won his Senate seat on 2 July 1999 for the One Nation party, then lived in Queensland, 2,977 kilometres from Melbourne. On 25 July 2002, Senator Len Harris travelled from Cairns in Queensland (a trip that took more than seven hours) to meet four other COTs and me, in Melbourne, in an attempt to ensure our claims of discrimination against the Commonwealth were fully investigated. He was appalled that 16 Australian citizens were so badly discriminated against in such a deplorable fashion by the then-Coalition government, despite a Senate estimates committee working party being established to investigate all 21 COT-type claims against Telstra.
He was stunned at how I had collated this evidence into a bound submission. When Senator Harris read the 9 August 2001 letter from Senator Alan Eggleston Liberal Party warning me that if I disclosed the in-camera Hansard records (which supported my claims that sixteen Australian citizens had been discriminated against in the most deplorable manner) I would be held in contempt of the Senate and risk jail, he Senator Harris, was very upset to say the least.
At a press conference the next day, Senator Harris aimed questions at the Hon Senator Richard Alston, Minister for Communications noting:
"Through the following questions, the media event will address serious issues related to Telstra's unlawful withholding of documents from claimants, during litigation.
Why didn't the present government correctly address Telstra's serious and unlawful conduct of withholding discovery and/or Freedom of Information (FOI) documents before the T2 float?
Why has the Federal government allowed five Australians (from a list of twenty-one) to be granted access to some of the Telstra discovery documents they needed to support their claims against Telstra, but denied the same rights to the other sixteen?
Why has the Federal Government ignored clear evidence that Telstra withheld many documents from a claimant during litigation?
Why has the Federal Government ignored evidence that, among those documents Telstra did supply, many were altered or delivered with sections illegally blanked out? (See Senate Evidence File No 56 ).
Senator Len Harris is possibly one of the finest men I have ever had the pleasure of meeting, a true man that believes in justice for all, not just those with political clout. The senator could not understand how, despite various senators from both houses of parliament openly condemning Telstra's unethical conduct towards those five litmus test COT claimants during their arbitrations and the Senate investigation itself, the other 16 were left to their own devices. The in-camera Senate Hansard records indicate that no one seemed to grasp the importance of Senator Schacht's advice to the committee that, if Telstra only provided compensation to the five litmus test cases and not the other 16, it would be an injustice because they had also suffered similarly at the hands of Telstra.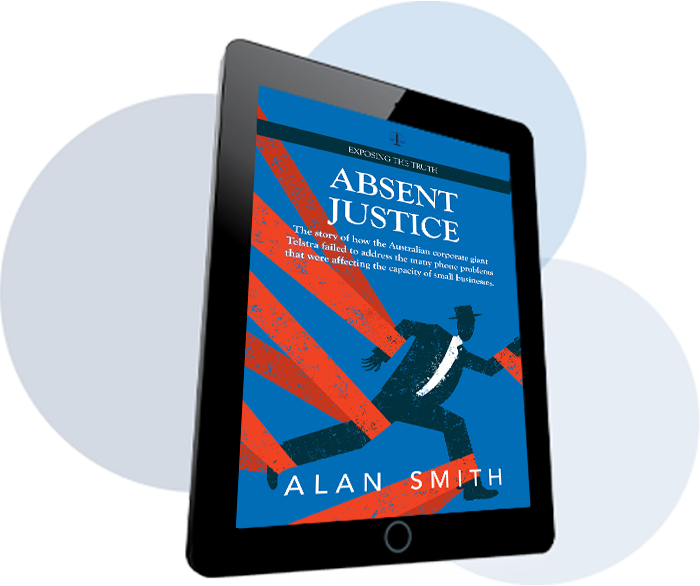 Read Alan's book
A true story

"Only I know from personal experience that your story is true, otherwise I would find it difficult to believe. I was amazed and impressed with the thorough, detailed work you have done in your efforts to find justice"
"…your persistence to bring about improvements to Telecom's country services. I regret that it was at such a high personal cost."
"…the very large number of persons that had been forced into an arbitration process and have been obliged to settle as a result of the sheer weight that Telstra has brought to bear on them as a consequence where they have faced financial ruin if they did not settle…"
"Only I know from personal experience that your story is true, otherwise I would find it difficult to believe. I was amazed and impressed with the thorough, detailed work you have done in your efforts to find justice"
"I am writing in reference to your article in last Friday's Herald-Sun (2nd April 1993) about phone difficulties experienced by businesses.

I wish to confirm that I have had problems trying to contact Cape Bridgewater Holiday Camp over the past 2 years.

I also experienced problems while trying to organise our family camp for September this year. On numerous occasions I have rung from both this business number 053 424 675 and also my home number and received no response – a dead line.

I rang around the end of February (1993) and twice was subjected to a piercing noise similar to a fax. I reported this incident to Telstra who got the same noise when testing."
"…your persistence to bring about improvements to Telecom's country services. I regret that it was at such a high personal cost."