An Injustice to the remaining 16 Australian citizens
No author should write only part of a story based on fact while leaving out a relevant part of the story because it might be seen as detrimental to another person in the story. A full factual account of what happened during the COT arbitrations is necessary: both the good and the bad.
So, I must raise a conflict of interest that clearly affected the whole outcome of the first four arbitrations. I felt it was best to leave this issue to last.
What has been decidedly the hardest decision for me to make since I began telling the COT storey is exposing the conflict-of-interest issue between Graham Schorer (Golden Messenger) and Dr Gordon Hughes (the COT arbitrator).
For Telstra (the defendants in those four arbitrations) to have allowed this conflict-of-interest issue to have gone unchallenged before the four complainants signed the arbitration agreement on 8 and 21 April 1994 suggests that Telstra saw an advantage to their defence by allowing it. I only uncovered this conflict-of-interest issue in 2008, after Graham Schorer asked me to write several reports concerning the COT story.
After I had explained to Graham how his conflict-of-interest with the arbitrator had benefitted him and not the other COT Cases and that this conduct by Dr Hughes was more than questionable and had the senate Committee investigating Telstra's withhold of FOI documents for all the COT Cases during their respective arbitrations and mediation process known about this conflict-of-interest issue at the time of their 1997 to 1999 FOI investigations, this would have been enough for the senate to instigate a full-blown Senate hearing, Graham wanted to the right the wrongs by submitting to the senate the reports I was writing.
This providing my reports to those senators he had met in Canberra would help him to live with what he had done. This was to be his redemption. He felt ashamed for having benefitted from his previous association with Dr Hughes, and the other COT Cases had not.
Some years into my research regarding Graham's involvement in the COT arbitration's I uncovered Dr Gordon Hughes had been assisting Graham in his Golden Messenger business enterprise as well as acting as his Federal court lawyer during the early part of Graham's previous 1990 to 1993 court action against Telstra. These were the very same telephone issues he was appointed by the TIO in 1994 to assess as arbitrator in Graham's case.
When I asked Graham to please explain why he had concealed this conflict-of-interest from me before arbitration as during my arbitration; he wrote the following document refer to exhibit GS 565 file GS-CAV 459 to 489 as a compromise if I would continue with the project at hand.
For the second time within days, Graham again confided in me his sense of guilt for not exposing this conflict of interest during the period the Senator was investigating his Freedom of Information FOI matters which awarded him $3,600 million dollars. He felt guilty as the COT spokesperson for not having done more for the remaining (sixteen COT Cases who also had the same FOI problems with Telstra during their various litigation processes). I reiterate his paying for me to expose this whole dreadful saga was his way of righting his wrongs for not having done more as the COT spokesperson.
It is as important to look at this conflict-of-interest issue from the perspective of the other COT claimants as it is to look at it from Graham's perspective because. as Graham's earlier legal advisor in both his business ventures and his Federal Court Telstra matters. Because if Dr Hughes, as Graham alleges, he did know about the concealment of important documents Graham/Golden litigation against Telstra in the Federal court from 1990 to 1992, then we three COT Cases Ann Garms, Maureen Gillan and I were entitled to have been briefed on this matter. The fact that Telstra and the Establishment got away with this during a federal court action is one thing, but for Dr Hughes and/or members of the legal firm to which Dr Hughes was a senior partner appear to have also been party to this concealment brings a massive cloud over the COT four arbitration just three years later, when Telstra concealed similar documents from all of the four COT cases during their arbitration, in which Dr Hughes was the arbitrator.
Possibly even worse for the other two COT Cases and I is that Dr Hughes allowed Graham/Golden an extra three or more years longer to access their documents from Telstra, over and above what he allowed us, three COT claimants, even though the official arbitration rules did not permit this. Dr Hughes only allowed me one extra week to access my documents from Telstra shows how this conflict of interest tainted the whole arbitration process.
Before the government communications regulator, AUSTEL (now AMA) endorsed Dr Gordon Hughes as the independent arbitrator they had a duty of care to advise the COT Cases in writing that Dr Hughes was not an experienced arbitrator and had not been graded by the Institute of Arbitrators Australia to perform such complex arbitrations as the COT four processes. AUSTEL did not. Could you inform us of this fact?
Dr Hughes himself also failed his duty of care as a pending arbitrator to COT Cases Ann Garms, Maureen Gillan, and me in writing as per the rules of the Victorian Arbitration Act that he had a conflict of interest with the fourth claimant Graham/Golden. And to add further salt to the COT Cases future wounds was that Graham Schorer, in his capacity as COT spokesperson failed to disclose to us three other COT Cases (refer exhibit GS 565 file GS-CAV 459 to 489) that we should not send arbitration related faxes to Dr Hughes' Melbourne office after the closing of business each day; otherwise, they may not arrive at their intended destination.
Front Page Part One File No/1 shows the arbitrator's secretary advised Tony Watson (of Telstra's arbitration defence unit) that on 23 May 1994, six of my claim documents did not reach the arbitrator's fax machine. Yet, I was charged on my Telstra account for those six faxes. Why was this matter not investigated? NO one from the arbitrator's office or the TIO's office allowed me to amend my claim so that the not received claim documents could be valued as part of my arbitration process.
Why didn't Dr Hughes (as the arbitrator to my case) also explain to me as he did to Graham Schorer (refer exhibit GS 565 file GS-CAV 459 to 489) that my 23 May 1994 faxed claim documents might be in his Sydney office? Did Dr Hughes believe by exposing this faxing problem with his Sydney office halt the arbitration process in my favour? Was Dr Hughes worried by exposing to me the flaws in his own two offices concerning the possibility this is where my other lost faxes ended up this admission would bring an end to him remaining the arbitrator to the COT arbitrations?
Firstly, had Graham (as the COT spokesperson disclosed to the COT Cases before, we signed our arbitration agreement, we would have been in our rights to demand Dr Hughes supply an efficient faxing system throughout our arbitrations.
Secondly, we could have used this faxing problem between Dr Hughes Melbourne and Sydney office to support any arbitration appeal in the period allowed in our arbitration agreement.
It is important to link these unaddressed lost arbitration faxes to both my case and that of Ann Garms (now deceased), because it is well written between us, lost many faxed arbitration-related documents.
Ann Garms (one of the other COT Cases) spent over $600,000.00 in her arbitration appeal in the Supreme Court of Victoria against Dr Hughes. Ann might have had a more favourable outcome of this appeal which she lost had she and her lawyers known of Dr Hughes admission to Graham Schorer before the commencement of our four arbitrations.
A fair resolution of those sixteen COT cases has never been resolved, as can be seen by clicking onto An injustice to the remaining 16 Australian citizens. By the time I finish recording all the details of our complex story here, at absentjustice.com, there will be many, many people, from all walks of life, who will then believe that it is absentjustice.com that tells the actual, true story, the only one that should be believed. refer to Evidence / An Injustice to the remaining 16 Australian citizens)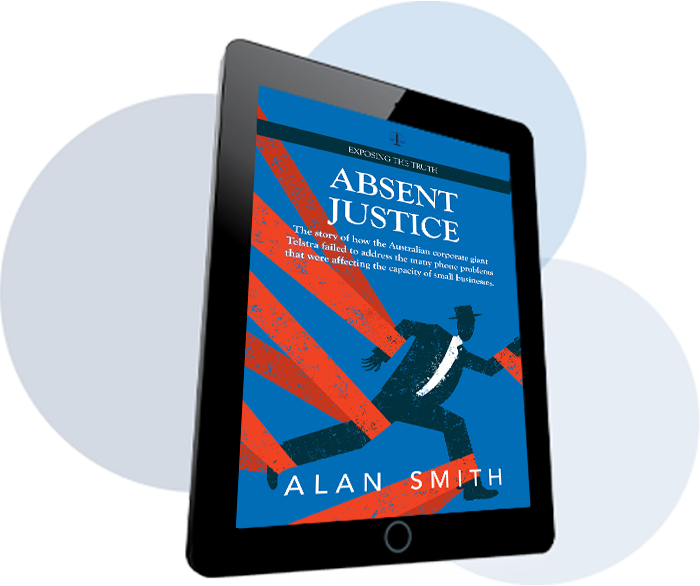 Read Alan's book
'Absent Justice'
Alan Smith's book shows us corruption, fraud and deception perpetrated against fellow Australian citizens by the then government owned Telstra Corporation and the use of an 'arbitration confidentiality gag clause,' which is still being used in 2023 to cover up the many crimes committed by Telstra, the arbitrator and the arbitrators advisors during and after the arbitrations between 1993 and 1999 (see Chapter 1 - The collusion continues and Chapter 2 - Inaccurate and Incomplete.
This book is asking the government why are these crimes committed by Telstra being concealed under a gag clause?
All of the main events as quoted in this unbelievable true crime story are supported by copies of the original freedom of Information documents on this website absentjustice.com (see Absent Justice Book 2)
Without those documents, most people would really struggle to believe that public officials and their lawyers committed the illegal offences they did.
Using the acquired evidence that can be downloaded from absentjustice.com is possibly a world first.
ABSENT JUSTICE HAS IT ALL.
Read About Our Dealings With

"Only I know from personal experience that your story is true, otherwise I would find it difficult to believe. I was amazed and impressed with the thorough, detailed work you have done in your efforts to find justice"
"…your persistence to bring about improvements to Telecom's country services. I regret that it was at such a high personal cost."
"…the very large number of persons that had been forced into an arbitration process and have been obliged to settle as a result of the sheer weight that Telstra has brought to bear on them as a consequence where they have faced financial ruin if they did not settle…"
"Only I know from personal experience that your story is true, otherwise I would find it difficult to believe. I was amazed and impressed with the thorough, detailed work you have done in your efforts to find justice"
"…your persistence to bring about improvements to Telecom's country services. I regret that it was at such a high personal cost."
"I am writing in reference to your article in last Friday's Herald-Sun (2nd April 1993) about phone difficulties experienced by businesses.

I wish to confirm that I have had problems trying to contact Cape Bridgewater Holiday Camp over the past 2 years.

I also experienced problems while trying to organise our family camp for September this year. On numerous occasions I have rung from both this business number 053 424 675 and also my home number and received no response – a dead line.

I rang around the end of February (1993) and twice was subjected to a piercing noise similar to a fax. I reported this incident to Telstra who got the same noise when testing."