An Injustice to the remaining 16 Australian citizens
The deliberate discrimination against sixteen casualties of the Telstra group, which was put in place by the John Howard's Government, may well turn out to be the worst case of deliberate discrimination against a small group of Australian citizens for a very long time, in fact, possibly since Federation, back in 1901.

Although The Hon David Hawker MP tried to expose this COT saga for me between June 1993 and 2006, he could not do so. He again picked up the baton and tried to help the new owners of my business from when they purchased December 2001, to 2007. He resigned, and in 2009 Mr and Mrs Lewises were escorted off from the business as bankrupts (see Chapter 4 The New Owners Tell Their Story).
At least the Hon David Hawker MP tried.
Last edited October 2022.
In Senator Alan Eggleston Senate Hansard statements below under issues it notes:
"The original group of COT's comprised 4 claimants. They were Alan Smith, Mrs Ann Garms, Mr Graham Schorer, and Mrs Gillan.: The remaining five are Mrs Garms and Mr Schorer from the original claimants and Mr Honer, Mr Bova and Mr Plowman."
Between June and August 1997, after having met with Senator Ron Boswell (National Party) in his Canberra office on two occasions, the second one on 20 August 1997 was after my Melbourne lawyers Dunn faxed to the Senator's office a summary where my 1994/95 arbitration process had failed me.
The Senator discussed this brief with six other COT Cases in his office and similar information, which clearly showed several of the 21 COT cases had all suffered a poorly administered arbitration or mediation process because Telstra had concealed so many relevant documents needed by the 21 Cases to support their claims entirely.
During the months of 24 June and September 1997, it was agreed that to have all 21 COT Cases FOI claims assessed simultaneously by a Senate working party [investigation], such an extensive investigation would be beyond the Senate. Such an investigation would not only bog down that investigation, but it might also impede that investigation.
The COT Cases agreed that it was more productive to limit the Senate investigation to six litmus test cases, Ann Garms, Graham Schorer, Ralph Bova, Ross Plowman, Anthony Honnor and Garry Dawson. It was also agreed that if all six cases proved their claims that Telstra had concealed relevant documents from the claimants, then whatever the outcome of that Senate investigation, the remaining 15 cases would receive the same benefit as the litmus cases.
Garry Dawson became ill and did not participate, leaving five litmus cases. However, as our COT Cases story shows, the government ignored that previous agreement and allowed Telstra to compensate only the five litmus test cases.
(see Eggleston, Sen Alan – Bishop, Sen Mark – Boswell, Sen Ronald – Carr, Sen Kim – Schacht, Sen Chris, Alston and Sen Richard) which all formally record how those six senators believed that Telstra had 'acted as a law unto themselves' throughout all of the COT arbitrations, is incredible.

A breath of fresh air
Senator Len Harris, who won his senate seat on 2 July 1999 for the One Nation party, then lived in Queensland, 2,977 kilometres from Melbourne. On 25 July 2002, Senator Len Harris travelled from Cairns in Queensland (a trip that took more than seven hours) to meet four other COTs and me in Melbourne to ensure our claims of discrimination against the Commonwealth were fully investigated. He was appalled that 16 Australian citizens were so badly discriminated against in such a deplorable fashion by the then-Coalition government, despite a Senate estimates committee working party being established to investigate all 21 COT-type claims against Telstra.
He was stunned at how I had collated this evidence into a bound submission. When Senator Harris read the 9 August 2001 letter from Senator Alan Eggleston Liberal Party warning me that if I disclosed the in-camera Hansard records (which supported my claims that sixteen Australian citizens had been discriminated against in the most deplorable manner), I would be held in contempt of the Senate and risk jail, he Senator Harris, was very upset, to say the least.
At a press conference the next day, Senator Harris aimed questions at the chief of staff to the Hon Senator Richard Alston, Minister for Communications. He asked:
"Through the following questions, the media event will address serious issues related to Telstra's unlawful withholding of documents from claimants, during litigation.

Why didn't the present government correctly address Telstra's serious and unlawful conduct of withholding discovery and/or Freedom of Information (FOI) documents before the T2 float?

Why has the Federal government allowed five Australians (from a list of twenty-one) to be granted access to some of the Telstra discovery documents they needed to support their claims against Telstra, but denied the same rights to the other sixteen?

Why has the Federal Government ignored clear evidence that Telstra withheld many documents from a claimant during litigation?

Why has the Federal Government ignored evidence that, among those documents Telstra did supply, many were altered or delivered with sections illegally blanked out?

(See Senate Evidence File No 56).
A fair resolution of those sixteen COT cases has never been resolved, as can be seen by clicking onto An injustice to the remaining 16 Australian citizens. By the time I finish recording all the details of our complex story here, at absentjustice.com, there will be many, many people, from all walks of life, who will then believe that it is absentjustice.com that tells the actual, true story, the only one that should be believed. refer to Evidence / An Injustice to the remaining 16 Australian citizens)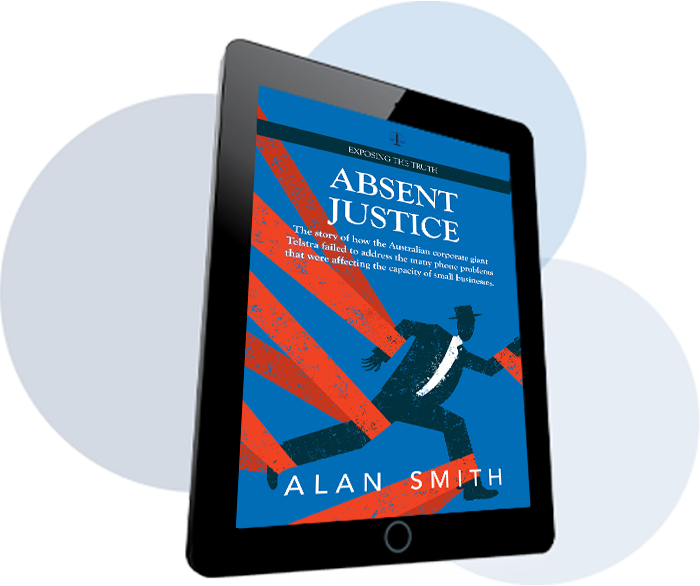 Read Alan's book
'Absent Justice'
Alan Smith's book shows us corruption, fraud and deception perpetrated against fellow Australian citizens by the then government owned Telstra Corporation and the use of an 'arbitration confidentiality gag clause,' which is still being used in 2022 to cover up the many crimes committed by Telstra during their arbitration defence of the COT Cases in 1994 to 1998.
This book is asking the government why are these crimes committed by Telstra being concealed under a gag clause?
All of the main events as quoted in this unbelievable true crime story are supported by copies of the original freedom of Information documents on Alan's website absentjustice.com (see Absent Justice Book 2)
Without those documents, most people would really struggle to believe that public officials and their lawyers committed the illegal offences they did.
Using the acquired evidence that can be downloaded from absentjustice.com is possibly a world first.
ABSENT JUSTICE HAS IT ALL.

"…your persistence to bring about improvements to Telecom's country services. I regret that it was at such a high personal cost."
"I am writing in reference to your article in last Friday's Herald-Sun (2nd April 1993) about phone difficulties experienced by businesses.

I wish to confirm that I have had problems trying to contact Cape Bridgewater Holiday Camp over the past 2 years.

I also experienced problems while trying to organise our family camp for September this year. On numerous occasions I have rung from both this business number 053 424 675 and also my home number and received no response – a dead line.

I rang around the end of February (1993) and twice was subjected to a piercing noise similar to a fax. I reported this incident to Telstra who got the same noise when testing."
"Only I know from personal experience that your story is true, otherwise I would find it difficult to believe. I was amazed and impressed with the thorough, detailed work you have done in your efforts to find justice"
"…the very large number of persons that had been forced into an arbitration process and have been obliged to settle as a result of the sheer weight that Telstra has brought to bear on them as a consequence where they have faced financial ruin if they did not settle…"
"A number of people seem to be experiencing some or all of the problems which you have outlined to me. …

"I trust that your meeting tomorrow with Senators Alston and Boswell is a profitable one."
"I am writing in reference to your article in last Friday's Herald-Sun (2nd April 1993) about phone difficulties experienced by businesses.

I wish to confirm that I have had problems trying to contact Cape Bridgewater Holiday Camp over the past 2 years.

I also experienced problems while trying to organise our family camp for September this year. On numerous occasions I have rung from both this business number 053 424 675 and also my home number and received no response – a dead line.

I rang around the end of February (1993) and twice was subjected to a piercing noise similar to a fax. I reported this incident to Telstra who got the same noise when testing."