This Weekly-Blog is also regularly updated so readers can see what is currently being collated concerning the Seat of Arbitration in Australia.

Over the years I have received an astonishing number of Freedom of Information documents from the Victoria Police Major Fraud Group, as a result of their investigations into claims of fraud against Telstra that were lodged by four of the COT Cases and, of course, I also have piles of my own claim documents that I submitted to the Victoria Police when the Major Fraud Group seconded me to assist them in their 1999 to 2001 investigation (those documents finally totalled approximately 86,000 altogether). Every single one of these documents, plus many exhibits that support them, have eventually all been copied and, over the years, used as exhibits in fifty-five individual mini-reports that supported numerous claims concerning the conduct of the COT Cases government endorsed-arbitrations of 1994 to 1999.
I also have piles of other documents that resulted from three separate Victorian government investigations into my complaints and even more from processes carried out by the Federal Government and two other Government Appeal processes. Like all the other documents I have carefully collected and stored, all of these have also been copied electronically and used as exhibits in those fifty-five individual situations mentioned above.
All these documents, together with all the exhibits that support them, will now be gradually released on this website as further support for my claims that the government regulator; the TIO; and representatives from the TIO's Office, were all a part of a government plan to deliberately mislead and deceive some twenty-one innocent Australians, with just one aim: to protect the Telstra Corporation at all costs.
The truth of this story must be told as it happened, not as it is currently and deliberately misrepresented in the government archives. I am now 77 years of age, and I believe that surely the government has nothing left to attack me with now, because they have already used every possible crooked plot against me, even threatening me twice, in writing that if I release to Senate Hansard's reports dated 6 and 9 July 1998, I will be held in contempt of the Senate, which in some cases brings a two year jail term. Sadly, these two Senate In-Camera Hansards, prove beyond all doubt when the government forced Telstra to release some of the most relevant withheld FOI documents to the five litmus COT test Cases 150,000 documents but refused to force Telstra to release the same type of information to the remaining 16 unresolved COT FOI claims they the John Howard government discriminated against those 16 Australian citizens in the most deplorable fashion.
The current 2021 Minister of Communication, Urban Infrastructure, Cities and the Arts of Australia, The Hon Paul Fletcher MP, is aware my arbitration claims are true having been provided with that evidence in June 1996 (refer to Open Letter File No/41/Part-One and File No/41 Part-Two. Since that period and as recently as 12 October 2019, The Hon Mr Fletcher has declined to reinvestigate this evidence originally provided in June 1996 and is now displayed on his website.
A kangaroo court (refer to Kangaroo court - Wikipedia is a judicial tribunal or assembly that blatantly disregards recognized standards of law or justice, and often carries little or no official standing in the territory within which it resides. The term may also apply to a court held by a legitimate judicial authority who intentionally disregards the court's legal or ethical obligations.
The statement made on Kangaroo court - Wikipedia is often held to give the appearance of a fair and just trial, even though the verdict has in reality already been decided before the trial has begun", is exactly what happened during the various Casualties of Telstra (COT for short) arbitrations i.e. the arbitrator and the Telecommunications Industry Ombudsman (TIO) collaborated with the defendants (Telstra) to use their proposed rules of arbitration instead of the agreed rules that were supposed to have been drafted independently. The out story shows not only did the arbitrator write to the TIO on 12 May 1995 (refer to Chapter 4 Home / Prologue) telling him the arbitration agreement he had used in my arbitration was not a credible document to have used. Regardless of this fact, this legal advice by the arbitrator to the Telecommunication Industry Ombudsman (TIO), was concealed from me during the designated arbitration appeal period by the TIO who eleven months later secured a front bench seat in the newly elected John Howard NLP government.
If the secret report prepared by the government (refer to AUSTEL's Adverse Findings had not been concealed from the relevant Minister for Communications and me the claimant, there is no doubt that the Minister would never have allowed me to spend $200,000.00 in arbitration costs plus the extra staff costs needed to keep my business running properly during the thirteen months I spent preparing my claim and travelling to Melbourne for associated meetings. Document AUSTEL's Adverse Findings confirms AUSTEL the government communications regulator had already used Telstra's own network documents in their investigations into my complaints, which clearly prove that Alan my claims were right and Telstra's was wrong, and all that needed to happen next was the appointment of a commercial assessor to value my losses. There would have been no need to employ an Arbitrator, a Resource Unit or a Special Counsel because the case had already been proved by the Government Regulator. Telstra certainly could not have appealed the findings in AUSTEL's Adverse Findings because that document was based on material sourced directly from Telstra by Government public servants; which meant that the case against Telstra had already been proved. The only people that received a successful payment from the arbitration was the arbitrator and his arbitration resource unit.
In other words, the thousands of dollars paid out in professional fees, just in relation to my arbitrations could have been completely avoided and my case could have been equitably settled in early 1994.
The Brotherhood
After reading information released by the Victorian State Ombudsman in The age newspaper.com.au/national/victoria/ombudsman-reveals-secret-brotherhood I contacted that office providing proof that such an organization consisting of lawyers, accountants as well as officials from the Telecommunication Industry Ombudsman office had infiltrated the Victorian seat of Arbitration. A phone call from that office after this proof had been provided did not discard or ridicule the information I had provided. It was then that I realized the possibility the reason document AUSTEL's Adverse Findings was concealed from me prior to and during my arbitration was so that the Brotherhood would continue to flourish regardless to cost to their fellow citizens.
Between 20 September 1995 and 27 March 2006, both the Hon David Hawker MP (my then Federal Member of Parliament) and I provided three separate government elected ministers holding the office of communications the same information which the Victorian State Ombudsman had not discarded or ridiculed. Anyone reading chapters 2 to 12 Evidence / 12 Alternate remedies pursued will conclude I have provided conclusive evidence to several government agencies in Australia that the seat of arbitration in Australia between April 1994 and beyond, certainly during the COT arbitrations were nothing more than a Kangaroo court set up to minimize Telstra legal liabilities.
For the administrator of the process, the Telecommunication Industry Ombudsman to have allowed the Telstra corporation to have their senior arbitration representative present during TIO meetings when the COT arbitrations were discussed. The following link Evidence / Telecommunications Industry Ombudsman shows how much disregard those conducting the COT arbitrations had for the COT claimants.
ooOoo

Published by Lyn Fattorini, 5 September 2021
TAMPERING WITH EVIDENCE: PART TWO
The main aim of Telstra's T200-telephone report, submitted as evidence into arbitration, was to prove Telstra's service was not at fault. WHY? Firstly, Alan's issues were not isolated, but he was one of only a few standing up and taking on Telstra publicly.
Telstra had a number of faults in the network that it needed to hide, in order to remain an attractive proposition for privatisation, but, also, to save costs. Some faults resulted in customers being overcharged: that amount added up over time and there were more than just a few customers affected. It was cheaper and easier for government-owned Telstra to divert attention from its neglected network and instead blame customers for faults. I discuss the extent of these problems shortly.*
Let's return to Alan's 'drunk' phone and Telstra's deception. In late 1995, well after his arbitration finished, Alan received new evidence conclusively proving a wet, sticky substance did not cause his lock-up issue. At least two issues contributed to this lock-up problem.
Mr Gamble, Telstra's chief engineer, believed the problem was caused by heat in the unmanned RCM exchange at Cape Bridgewater (https://www.absentjustice.com/download.php... folio R37911/B). Telstra was aware this telephone fault often occurred in moisture-prone areas, like Cape Bridgewater, and also knew the local exchange suffered from heat problems.
Telstra FOI folio D01026/27 (https://www.absentjustice.com/download.php...) also confirms Telstra knew EXICOM's T200 phones suffered from lock-up problems in moisture-prone areas. This document confirms this problem caused lines to remain open, so one party could hear the room noise of the locked-up party after the call was supposedly terminated. This document also confirms that instead of destroying these faulty phones, Telstra re-deployed some 45,000 phones to areas where local technicians supposed moisture was not a problem.
Telstra's CCAS data shows that between December 1993 and February 1994 (three months), Alan's services (008/1800, phone and fax) locked up for a total of 859.5 hours. (https://www.absentjustice.com/download.php?library=document&type=pdf&file=1553/exhibit 4-D) How many others were similarly affected?
In mid-March 1994, before Telstra collected Alan's T200 phone, a special network unit visited Cape Bridgewater's unmanned RCM switching station (a large hut). They noticed the building was not sealed to the concrete slab and there was no fan on the top of the unit to allow airflow to circulate. This meant moisture could creep in and affect lines disconnecting when a call was terminated. Ninety Cape Bridgewater residents were connected to this RCM. A technician noted that when they left the RCM station door open, incoming test calls terminated promptly, as they should. (https://www.absentjustice.com/download.php... /AS eight)
Alan contacted Telecommunications Industry Ombudsman John Pinnock with the new evidence proving Telstra submitted false documentation into arbitration and asked what the TIO would do with this proof of Telstra fabricating the beer in the phone story. The TIO responded that Alan's arbitration was finished and he would not involve his office in any investigation.
No action has ever been taken against Telstra for its tampering with evidence and perversion of justice.
Telstra eventually sold two shipping containers of T200s as scrap to Liberty USA, who moisture proofed the phones with silicon and resold them to Poland.
*The lock-up issues were only one fault in the Telstra network. A survey carried out on behalf of AUSTEL shows calls not received at customers' businesses, although apparently connected at the exchange. Calls would also drop out upon answering. Customers were charged for these defective calls. Many of those affected were small businesses using Telstra's 008/1800 (free-call service; business pays) plan. AUSTEL estimated there were as many as 120,000 (!!) customers affected by COT-type phone issues. However, Telstra demanded AUSTEL modify its draft report to show only "50 or more" complaints in AUSTEL's formal report, before Telstra provided this final report to the arbitrator. (This report, Exhibit 30-U, is a 258-page official public document.) The government regulator allowed Telstra to attempt to fix this problem from 1993 to 1996 while, at the same time, ignoring Telstra's promotions of a product that both knew was grossly deficient.
AUSTEL's Adverse Findings report (March 1994) proves Alan's various line issues existed from 1988 onwards and severely affected his business operations and caused losses. (https://www.absentjustice.com/download.php...) This report was concealed from Alan and the arbitrator. It was finally released in November 2007 – 13 years after Telstra submitted the T200 beer in the phone report.
https://www.absentjustice.com/.../absent-justice-part-1.../ shows how government bureaucrats and regulators colluded to assist Telstra to defuse the real problems raised in the COT arbitrations. Telstra was operating outside of its licensing conditions and, in doing so, was destroying hundreds, possibly thousands, of small Australia business.
This February 1993 Telstra memo, https://www.absentjustice.com/download.php... and https://www.absentjustice.com/download.php..., provides interesting reading about the state of Telstra networks, technicians' lack of knowledge and the slack remedies employed to 'fix' issues. CAN is Customer Access Network – the point of connection in the street where telecommunication wires connect to a box, hut or pit near customers' premises. Telstra preferred to blame the CAN for problems, to distract from its ailing network. Yet, AUSTEL allowed arbitration testing to NOT test the CAN: this is well documented in AUSTEL's public report.

Published by Lyn Fattorini, 29 August 2021
TAMPERING WITH EVIDENCE: PART ONE
Tampering with evidence is a crime; tampering with evidence after it has been provided to a legal arbitration process for assessment is a very serious crime. In Alan's case, illegal tampering with evidence included the introduction of a foreign substance into his telephone after then-government-owned Telstra collected it from his premises. Telstra then produced a deliberately falsified report about that phone and submitted it to the arbitrator.
After his arbitration began, Alan discussed a hang-up fault with AUSTEL's Cliff Mathieson. (AUSTEL was then the government's telecommunications regulatory authority. It is now called ACMA.) Mr Mathieson and Alan carried out a series of tests on Alan's phone line. When Alan hung up his TF200 phone and counted aloud, Mr Mathieson could still hear him. They repeated the test and got the same results. Alan replaced the phone with another, repeated the test – and they got the same results, suggesting the fault was not in the phone itself, but somewhere in the Telstra network. Mr Mathieson suggested Alan discuss this fault with Peter Gamble, Telstra's chief engineer. Of course, neither man knew then that Peter Gamble was one of the men Lindsay White named as saying Telstra must stop the COT claimants "at all costs" from proving their claims (Senate Hansard: https://www.absentjustice.com/download.php...).
Mr Gamble performed the same phone line tests with Alan and arranged for collection of the phone for testing purposes. Ross Anderson, a Telstra technician collected the phone on 27 April 1994, then tested the fax phone at least 18 times in Portland without it once displaying the lock-up fault (Telstra document FOI folio R37911: https://www.absentjustice.com/download.php...). After Mr Anderson's testing, the phone took a further nine days to reach Telstra's laboratory, arriving 6 May. Laboratory testing did not commence for another four days.
At point 1.3, under the heading Initial Inspection, Ray Bell, author of Telstra's TF 200 report, states: "The suspect TF200 telephone when received was found to be very dirty around the keypad with what appeared to be a sticky substance ..." (Tampering With Evidence: https://www.absentjustice.com/download.php...)
Photographs in Telstra's report show the outside of the phone was very dirty. According to the laboratory technicians, when they opened the phone, the inside was wet and sticky. Analysis showed the substance was beer and the conclusion was that this caused the hookswitch to lock up. (Don't forget: AUSTEL's Cliff Mathieson and Alan had already tested two different phones on the line and still found the same fault.)
Alan was perplexed, as the phone was clean when it left his premises. He put in a request to the arbitrator, asking to see a copy of all the laboratory technicians' handwritten notes so he could see how Telstra arrived at their conclusion. Alan appointed a forensic document researcher to look over the documents but, upon submitting the report, the only response he received from the arbitrator and Telstra was a duplicate copy of the report he had already received as part of Telstra's defence.
In December 1994, Alan received 24,000 FOI documents in a document dump (https://en.wikipedia.org/wiki/Document_dump) from Telstra, cleverly timed for Christmas (when lawyers and arbitrators are on holiday). In the new year, with instructions to begin finalising Alan's arbitration, the arbitrator refused to accept any submissions based on new evidence from this document dump. Among these submissions was evidence that Telstra's TF200 report was deliberately and falsely concocted in order to stop the arbitration resource unit from investigating the line that Alan's phone had been connected to. Six years later, the same lock-up problems were still present on the same line.
On 28 November 1995, six months after Alan's arbitration ended, he received Telstra's full report, which confirms Telstra carried out two separate investigations of the phone, two weeks apart, and the second test, between 24 and 26 May 1994, proved that the first report (10 to 12 May 1994) – the report provided to the arbitrator – was a total fabrication. Telstra laboratory staff found wet beer introduced into the phone dried out completely in 48 hours, with air vents allowing beer to escape. (FOI folio A64535-6 in https://www.absentjustice.com/download.php...) Telstra collected Alan's phone on 27 April 1994, but it was not tested until 10 May – a gap of 14 days. Even though government-owned Telstra knew its second investigation proved the first arbitration report was fundamentally flawed, it still submitted the fabricated report to the arbitrator as Telstra's true findings on 12 December 1994.
(https://www.absentjustice.com/download.php...)
For further information, visit https://www.absentjustice.com/bad.../tampering-of-evidence.

Published by Lyn Fattorini, 25 August 2021
UNLAWFUL INTERCEPTION OF COMMUNICATIONS
When entering arbitration – or any legal arena – it is important that parties have access to support, e.g., for legal advice. In Alan's case, he needed access to technical advisors, accountants and others, to help him formulate his claims and to understand the evidence he was looking at. Such advice is confidential.
The Telstra/COT (Casualty of Telstra) arbitrations took place in the 1990s. In those days, communication was by letter, phone or fax, as it was prior to the widespread use of the internet.
So, what happens when you take on a large government-owned telecommunications company and have the potential to expose how dilapidated the whole network is?
Alan began to realise some faxes weren't getting through to recipients – they just disappeared. Other faxes had double date/time stamps on them, proving they'd been intercepted, then sent on from an untraceable intermediary fax machine. (See https://www.absentjustice.com/.../chapter-3-screening.../)
Obviously, it was to Telstra's great advantage to know what information Alan was receiving or sending to his technical and legal advisors or faxing to the arbitrator. How was this a level playing field? Consider, too: if Telstra knew what evidence was going to be requested, it could ensure that evidence 'disappeared'.
The Australian Federal Police (AFP) was very concerned at what its investigation into Telstra's interceptions showed. (https://www.absentjustice.com/.../chapter-2-i-am-not-alone/)
What IS surprising is that Telstra was so sloppy about its interceptions. Telstra evidence shows notes detailing when Alan was going to be out of town and who would be looking after his business while he was away (and their employment hours).
Customers' names, bookings and contact details were recorded, as were potential contracts Alan was investigating and more. (I'm only touching lightly on this interception topic. Check https://www.absentjustice.com/hacking-julian-assange/ for more in-depth coverage.)
On 15 February 1994 (before Alan's arbitration began), Senator Richard Alston asked the government-owned Telstra, on notice:
Could you guarantee that no parliamentarians, who have had dealings with COT members, have had their phone conversations bugged or taped by Telecom?
Who authorised the taping of COT members' phone conversations and how many and which Telecom employees were involved in either the voice recordings, transcribing the recording or analysing the tapes?
On what basis is Telecom denying copies of tapes to those customers which it has admitted to taping?
How many customers has Telecom recorded as having had their phone conversations taped without knowledge or consent since 1990? (https://www.absentjustice.com/hac.../chapter-4-what-privacy/ and https://www.absentjustice.com/download.php...)
This illegal interception of fax and phone communications happened before, during and after the COT arbitrations.
Interception of mail also occurred – in particular a huge amount of collated evidence that was sent by Alan's arbitration consultants to the arbitrator's office. The evidence never arrived and this had a terribly detrimental effect on Alan's case. (See "A comprehensive log of Mr Smith's complaints does not appear to exist." https://www.absentjustice.com/prologue/chapter-1/)
Did Telstra's lawyers know about this? Don't forget: Telstra employees were told the COT complainants must be stopped "at all costs".*

Published by Lyn Fattorini 21, August 2021
My name is Lyn Fattorini. I have been working with Alan Smith for over six years, initially as an editor for his original absentjustice.com website. Alan has asked me to write a series of posts about his experiences in taking on the Australian government and a large corporation.
Part of an editor's role is checking dates, statements, etc., are correct and that quotes are verbatim. In the course of my work with Alan, I have combed through ALL of his evidential exhibits – of which there's an impressive amount! Alan, himself, is very careful to be sure his claims are backed by evidence. To do otherwise would be foolish, considering who he is up against.
Alan's life for the past 20-plus years may seem unbelievable to some. But I can assure you there's no exaggeration. There are multiple instances of deception, threats, evidence tampering and withholding and even criminal activity, involving one of Australia's largest corporations, successive Australian governments and ministers, ombudsmen, the Federal police as well as the justice system. Why? There are many reasons, but, ultimately, to cover up the massive negligence of a nationwide, government-owned, telecommunications network, in order to privatise it in the 1990s. IF the government had admitted how degraded the system was, the sales prospectus would not have been very attractive to potential buyers.
Australia, today, is still suffering from this cover up, with poor connectivity and significant budget blowouts in upgrading the network. The government and corporation now claim they didn't realise how neglected and dilapidated the lines were. Except, they DID know. From the late 1980 through the 1990s, Alan, and other affected business people, were seeking compensation for damages to their businesses by telecommunications services that were not fit for purpose. The government's own communications regulator found the network WAS terribly degraded and found in favour of the claimants. This was hidden from the claimants, however, and they were forced into mediations and arbitrations. These claimants were a massive threat to the government-owned enterprise – and its sale. The government had to shut these complainants up, "at all costs".* As we know, lies usually require more lies to keep the truth hidden. The now privatised corporation readily assisted the government in the cover up and added further layers of deception and lies.
Alan is the only original business owner still fighting and he is still considered a threat today, because to successfully publicise this massive collusion will be disastrous for many politicians and highly regarded prominent figures, leaving them in immense disgrace.
Today, the government persists in deflecting Alan's attempts at seeking acknowledgement and restitution, for himself and other remaining business owners. Certain ministers have tried to stand up on Alan's behalf over the years, but, overall, they get nowhere. And the privatised corporation just ignores him. Unfortunately, these complainants/whistleblowers are aging and a number are now deceased. One gets the feeling the government and the corporation are just biding time until Alan passes: whereupon they will give a collective sigh of relief and finally bury this shocking story of misuse of power and abuse of Australian citizens.
There are many facets to what Alan has uncovered over the years concerning this sordid situation and the unscrupulous behaviour involved in suppressing public knowledge of it. I will report separately on some of the layers involved over the next few weeks.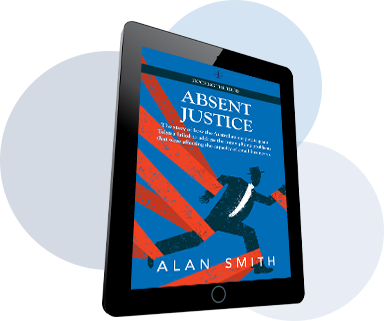 Published by Alan Smith, 10 August 2021.
Firstly, please read my website absentjustice.com and secondly please read the Prologue and Introduction to my latest publication, "Absent Justice".
As a result of the interest shown by so many LinkedIn contacts, late last month I published the true story of the Casualties of Telstra (COT), a band of small Australian business owners who blindly put their faith and trust in a small group of bureaucrats who, we later discovered, were secretly working with a government-owned telecommunications carrier (the Telstra Corporation) to deliberately conceal, from its customers, just how bad the telephone system really was in Australia, back in 1994.
Without the support of those LinkedIn contacts and an editor in Ringwood, a Melbourne suburb, which I plucked at random from a telephone business guide in August 1994, and who is still pushing out pages of edited work so that my two books (one not yet published), and my website, absentjustice.com, can reveal the whole truth about what this small group of government bureaucrats and Melbourne lawyers and accountants were prepared to do for-profit and professional gain.
The exhibits supporting the website, and the books, can be downloaded as you troll through this amazing story. In fact, there are over 1,600 exhibits that reveal the truth of how sixteen Australian citizens were deliberately subjected to long-term abuse because these bureaucrats have been willing to do almost anything to keep the truth concealed for as long as they can.
Recently another editor, this time from the South Island of New Zealand, and chosen from my LinkedIn contacts have also become a part of this driving force of people who are so incensed at the horrors created by that lying group of bureaucrats that, like my Ringwood editor, they are simply dedicated to making sure that this story finally sees the light of day.
On 13 April 1994, eight days before the COT Cases signed their arbitration agreements AUSTEL the then government communications regulator (now ACMA advised the Minister of Communications The Hon Michael Lee MP, that Telstra had agreed to fix all of the COT Cases telephone problems before the arbitrator brought down their findings.
ALL of the telephone problems still being experienced by the COT Cases were not fixed before the arbitrator brought down his findings.
In my case, and that of most of the other COT Cases, their phone problems continued after their arbitrations, those who still had businesses to run. My own arbitration professional fees, including the resultant costs in my attempt to have my ongoing telephone problems fixed as part of the arbitration cost, went past the $260.000.00 (two-hundred and sixty thousand dollars and nothing had changed on the 11 May 1995 when the arbitrator failed to have the problems fixed. Australia must be the only country in the western world that endorses an arbitration process that never delivered what the government promised.
Please go to my website, absentjustice.com, and purchase my eBook. So far, six different publishers have joined this venture and the eBook, called "Absent Justice", will only cost you $13.00. And please remember two things: everything in the eBook is the truth, and it includes the 1,600-plus exhibits that you can also, download.
Below is a copy of the Prologue and Introduction to my manuscript

Published by Alan Smith, 2 August 2021
I have set up my website absentjustice.com and this Facebook page to share my attempts, over twenty years, to take on the Telstra Corporation; to hold them accountable for the faulty service they provided to my business property, and to make them accept liability for the business losses I incurred as a result. I have also collected similar stories from other Australians who have had similar experiences with Telstra and who, so far, have also not yet received the justice they deserve. It seems that our telecommunications giant is above the law.
My story begins in the 1990s when lawyers, entrusted with discovering the truth, allowed themselves to be compromised before, during and after a government-endorsed arbitration process between Telstra and me. This process was established to review my complaints about the faulty telephone service supplied by the Telstra Corporation and to take the necessary remedial action to ensure that the lines were fixed and compensate me for business losses incurred due to faulty phone lines.
I am not alone in this story. At least two other manuscripts will eventually be added to the one now advertised on my website absentjustice.com; they will describe the experiences of other Australians who also put their faith in the Australian legal and judicial system, only to find that none of those involved (lawyers, arbitrators, mediators and ex-government-ministers-turned-public-officials) could be trusted to ensure that Telstra would ever be held accountable to their customers or made subject to Australian law.
It is widely accepted that most people would like to write a book sometime in their life. I was one of those people. However, the tale I am telling here is not exactly the story I had wanted to write.
I now find myself collecting and collating twenty years worth of evidence, so I can put together the story of how the Telstra Corporation actively embarked on a campaign of concealing and destroying evidence that should have been made available under the Freedom of Information Act (refer to Senate Hansard, and of exerting undue influence over expert witnesses, lawyers, mediators and the arbitration process itself, to ensure that they were not held accountable for their actions. At the same time, they appeared to make no effort to solve the technical issues that had resulted in legal proceedings in the first place, issues that, in some cases, continue to this day.
I have collected this evidence about my own case and several other Australians who have also suffered severe damage to their businesses. These people were, like me, denied justice through the very legal processes that were supposed to protect all Australians from the negligent business practices and potentially illegal actions of those corporate giants that frequently will not take their civic and legal responsibilities seriously.
The organisation that was supposed to protect us was the Telecommunication Industry Ombudsman, referred to simply as the Ombudsman on this site), and the legal vehicle that we were encouraged to use to get that protection was a government-endorsed arbitration process that was to be administered by that Ombudsman. Not only did Telecom/Telstra fail in their role as our telecommunications provider, but individuals employed by the Ombudsman were also subject to undue influence from Telecom/Telstra, to the point that justice was not served at any level. It is very possible that significant illegal acts were committed to ensuring that Telstra was not held accountable for its actions.
In telling this unbelievable story, it became apparent we would need evidence to support my proposed book, Facebook and my LinkedIn profile. Hence, the use of the Freedom of Information Act (the FOI Act 1987)
All the main events quoted on my website absentjustice.com and my book on this subject, which can be download from the website, are supported by copies of the original documents obtained under the (FOI Act): for example, AS - CAV 1 to 47-AS-CAV 48-A to 91, Absentjustice - Preface, Manipulating the Regulator, etc. Clicking on these links automatically opens a PDF of the exhibit. By using this method and following the file numbers, you can verify our story. We could not have successfully composed this publication or my website absentjustice.com without these exhibits to prove our story. The corruption and injustices perpetrated against the Casualties of Telstra (COT cases) by those in various administrative roles, under the umbrella of legally administered arbitrations, are so overwhelming that we would have lost clarity had we placed all in one manuscript. So, as you read this publication, regularly check the evidence on the website and the numbered exhibits to ensure you truly appreciate the enormity of what you are reading.
While reading this story, it will become clear that I have not included all the exhibits that are referred to but, over the years, I have, however, provided all the appropriate exhibits, in full, to various government officials, including, but not limited to the Australian Federal Police and the Prime Minister's office. So far, however, over those many years, no one from those government departments that have received those documents has even attempted to refute the authenticity of the documents provided. It is also important to be aware that I have never intended to discredit or cause harm to any of those who might be mentioned in those withheld exhibits.
I strongly believe that the decision to withhold the more sensitive documents connected to this story will not reduce the value of the story in any way, partly because I seriously doubt that there is any publication in existence, like this, anywhere in Australia, that has revealed the depth of information and official skulduggery that is included in this book, or that exposes and discloses what this story reveals, particularly through those exhibits that we have included.
There are two aspects to telling these stories. The first is to tell the stories themselves. To read my story, you can download the first edition of my book from absentjustice.com.
People are posting about this https://www.facebook.com/hashtag/absentjustice
On 23 May 2021, Peta Credlin, Barrister, Solicitor and onetime Chief of Staff to The Hon Tony Abbott (Prime Minister of Australia), now a high profile Australian media guru and TV host, wrote a fascinating article, in the Herald Sun newspaper, under the heading: "Beware The Pen Pusher Power - Bureaucrats need to take orders and not take charge", which noted:
"Now that the Prime Minister is considering a wider public service reshuffle in the wake of the foreign affairs department's head, Finances Adamson, becoming the next governor of South Australia, it's time to scrutinise the faceless bureaucrats who are often more powerful in practice than the elected politicians.
Outside of the Canberra bubble, almost no one knows their names. But take it from me, these people matter.
When ministers turn over with bewildering rapidity, or are not 'take charge' types, department secretaries, and the deputy secretaries below them, can easily become the de facto government of our country.
Since the start of 2013, across Labor and now Liberal governments, we've had five prime ministers, five treasurers, five attorneys-general, seven defence ministers, six education ministers, four health ministers and six trade Ministers."
I found this article most relevant to the matters raised by the COT Cases and their dealings with 'the faceless bureaucrats who are often more powerful in practice than the elected politicians.' Peta Credlin has hit the nail squarely on the head in this article. I can not only relate to the information she writes about, but I can also link it to the many bureaucrats and politicians I have met since this debacle first began, i.e., before, during and after my government-endorsed arbitration (see absentjustice.com), who have continued to ignore the evidence now attached to this website.
I, therefore, decided to use Peta Credlin's article to open this post